Hey, business owners. Did you get the memo? Internal communications and community development matters. Inspired, dedicated, and happy employees create  your customer's services and products as well as your brand's office space.
Great internal dynamics and community-centric implementations benefit brands, facilitating success and workplace-related accolades and recognition. Poor communication and monotone owner-employee engagement produces other kinds of feedback.
You don't want a TPS (This.Place.Sucks) report, one showcasing employees with eternal cases of 'the Mondays,' where community camaraderie is low, and employee concerns get shoved to an obscure place within the company basement of attention. Such travails need CEO attention ASAP.
SEOs encourage clients and listeners to create brand communities. The process strengthens brand missions, online successes, longevities, and legacies. That's great advice. Is your business listening?
Company culture is the brainchild of brand leaders. Wouldn't you like to pick the brains of some successful company officers, inquiring about internal communication and culture? I sure did…
A recent email traversed the yellow-kicks road, finding its intended recipient in the land of Moz, where wizard, Rand Fishkin, addressed a few internal-community questions for readers:
Do you issue an internal newsletter? What kind of elements are in it? (employee interviews, message from CEO, reflections of company revenue/goals/etc.)
We do have several internal status updates from each major team in the company, and a lot of random, fun and informative emails too. Since our focus is on transparency, we want to make sure everyone has access to all the information about the business; we feel it helps make us more comprehensive and effective at our work (though admittedly, it can be distracting so we're working on ways to scale).
On a 1-10 scale, how would you rank internal sense of community in relation to achieving business goals (in general, then specifically relating to your brand)? Why are your views emphasized or not?
For us, community and culture are at the top of our priority list, so I'd say 10. Nearly every day, you can hear Mozzers in meetings and discussions talking about which path/decision is the most TAGFEE. We believe in putting culture first and that framing decisions in this fashion will have the best long-term impact on the company.
As far as other organizations go, it's hard to say. I've only ever worked at Moz in my adult life, so I'm probably not a great candidate. I will say that many of the best companies I meet and talk to, particularly in the startup/tech space, have strong cultures that bring them together. Whether they'd all put it at a "10″ on the priority scale is tough to say.
Outside of an internal newsletter, what types of outings or (internal brand) community behaviors does your brand address? What are the short/long-term goals of such?
We share via social media, our blog, events and meetups, even with post-its on our windows
http://www.geekwire.com/2011/postit-wars-part-space-invaders-attack-pine-street
Our goal is to maintain the commitment to our culture, including transparency, and that by sharing, we'll be rewarded through the growth of our brand, loyalty of customers and awareness from those in the ecosystem.
In a business world, becoming increasingly transparent and (socially platform speaking) exposed, what (generally speaking) types of information is not befitting for brand partners, clients, consumers (only kept internal)?
We keep salaries private, as we believe that in this case, empathy trumps transparency. There's very little else – our revenue, traffic, costs, etc. are all public on the web.
Editorial Note: I'm a member of the Moz community. I've extended accolades to SEOmoz before:
"The TAGFEE code reflects the core values of@SEOmoz ." (tips cap and lifts Johnnie to Roger and crew)
As my tweet references, I especially champion Rand and crew for their real-to-life walk of SEOmoz's TAGFEE talk. I deeply appreciate the Wizard of Moz taking the time to address my questions; I hope to discuss SEO 'over the rocks' with him some day.
As if the insight was done…let's take a transparent through-the-blue-looking-glass view of a team I find impressive for a number of reasons; one being their ability to use social media for great branding. I've asked Chris Winfield of BlueGlass for help before; he's always the gentleman to oblige.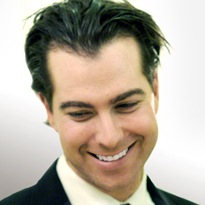 Question 1 (from above)
Yep, it's called the 'BG Express' and it goes out monthly. It recaps the previous month and gives updates about what's coming up for BlueGlass. It also 'Spotlights' a particular department and also one BlueGlasser, which is really cool because we it's impossible for everyone to know what every person in the company actually 'does'. It also gives more info about a particular client and reading suggestions (industry blogs, posts, etc).
Finally, I usually send out bi-monthly messages that give people more insight into where we are, what we're going through and where we are headed (and pretty much always have a motivational quote in them)…
Question 2
I never thought of it on a number scale but it's up there – so I'd say a 9 or 10. I am such a strong believer in having a strong & positive company culture and for people to LOVE what they are doing each day. We want everyone to feel (and know) that they are in a symbiotic relationship with every other person in BlueGlass.
Most of our employees hang out together outside of work (along with their families). That's so cool to me. Happy people = productive people.
Question 3
We have an internal employee network (which is now running on Podio) where we have constant info sharing, updates mixed in with some jokes on a daily basis.
We do weekly Lunch N Learns which can consist of presentations by BlueGlassers, huge brainstorming sessions or just BS-ing. We also try to do one type of outing each month together.
The goals? Clearer communication and less 'walls'. To be honest, communication is probably our biggest challenge. It's hard to keep everyone on the same page and knowing what's going on and why. So we are constantly trying new things to make it better and it's getting there. We aren't afraid of change!
Question 4
The main stuff is based around clients (when there are NDAs in place), special projects (we have something coming up that we haven't been talked about at all), and methodologies (we share a lot with the community but have to keep some things propreitary). We also don't believe in airing our dirty laundry in public, so we aren't going to talk negatively about past employees, partners, or anyone else. We try to maintain a positive attitude internally and we want the same externally. I personally don't want to deal with people or companies who are always stirring up drama so I try to make sure we practice what we preach. Life is too short for drama.
Editorial Note: I've been impressed with the copy and insight coming out of the BlueGlass brand for some time. I especially appreciate Chris' help regarding public relations, branding, social media, and consumer psychology. Chris' participation and help means a lot to me.
@chriswinfield That's how I know my thoughts are on right track – because leaders care enough to guide/keep me on it – thanks always, Chris
There's still more owner insight to be had. I also knocked on my own employer's email door, beseeching internal communication answers. Ken Wisnefski, quarterback of the WebiMax brand, spiraled some answers my way.
Question 1
I know you're working remotely… but, I hope you're getting them every week? Our PR manager, John Borkowski, pens them regularly. The employee newsletter begins with a personal message from me, introducing the recipient of the 'recently-recognized employee,' along with some seriousness and banter mixed. We then feature an employee via Q&A (How did you start working at WebiMax?  What are your professional goals?  What's on your iPod?) It gives employees an opportunity to express professional and out-of-office interests, allowing for all employees to learn more about those the team.
Question 2
Building an internal community is huge (more than 10). I've seen workers come through the door, ranging in skill levels; I've witnessed team players really feed off of positive environments, exceeding their own expectations and thought-to-be skill levels; that's the kind of culture I want to promote. I've had the opportunity to build good professional and friendship relations with a number of people on my team. We're building a great culture here thanks to good management and contributions all across the board.
Question 3
We've had a variety of both in-house and out-of-office outings. We've had team football games, lunches, happy hours, Christmas parties, Summer parties… We also try to do something in-house from time to time (to keep people guessing around the office).  I've been known to mix in employee massages, half days, and other assorted treats…  In-house and beyond 'outings' are great; people are more relaxed; and, though sometimes wind up discussing professional topics (can we avoid that!) it's very important for members to recognize one another as individuals. 'Downtime' and excursions allow for such bonding. It makes for a good synergy.  Some employees have even invited me to their 30th-birthday rollerskating parties!
Question 4
I think most information is appropriate to address as a team. Of course, there are exceptions when it comes to disciplining for poor work, discussing salaries, and personal, employee issues; however, those are more personal and not largely brand related. Other than that, we can't deny the importance of transparency to our employees, partners, and clients.
Editorial Note: I must be completely transparent in reminding readers I work for WebiMax and Ken (he did make a valiant effort to attend my skating party). I can honestly say Ken has been a huge contributor to my successes as an employee and person. He has been there to offer advice from a leader's, professional's, and friend's perspective; and, I wouldn't be where I am today without his help and guidance. There are a lot of special people who work at WebiMax; I'm happy to share a passion with them.
True story: Ken not only allowed me to house my drums at one time in the NJ office; he gave the nod, letting my buddies and I employ the office as an after-hours beat lab.
I believe sound internal communications and community-centric behavior is a huge part of a brand's success.  I have seen it play out practically for a number of brands big and small.  Have you observed great examples of brand leadership?  Share with readers and the community.  Um.  Yeah.  I'm gonna need you to participate on this…mkay?
Business Owners – Click here to take survey. Help us find a cure for Lumbergh.
Thanks for reading – Anthony Pensabene